Category - Red Road To DC
Modified - 8/10/21
New Item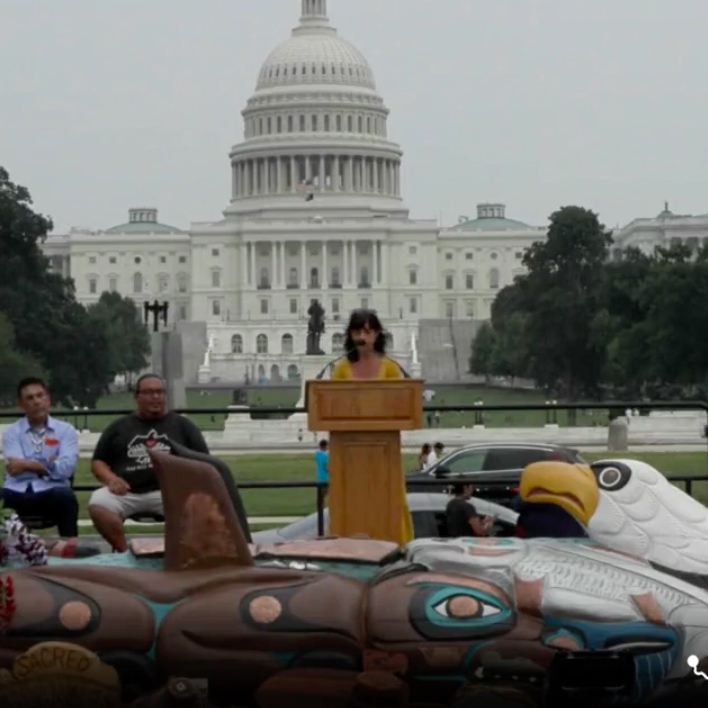 Summary: The Red Road to DC: 20,000 miles traveled. Seventeen blessing ceremonies. Coast to coast.
The Red Road to DC drew lines of connection between communities leading efforts to protect sacred places, and drew a line in the sand against an understanding of development that threatens ancestral lands, waters, tribal sovereignty, and our collective future. Our totem pole journey concluded with presenting the 25-foot pole to U.S. Secretary of the Interior Deb Haaland on the National Mall.
Along with the pole, we delivered over 80,000 petition signatures calling on the Biden-Harris administration to uphold the right of Indigenous peoples to free, prior, and informed consent to development projects impacting tribal lands and sacred places. The beautiful totem pole, carved by the House of Tears Carver of the Lummi Nation, is now on public display in front of the Department of the Interior in Washington, DC.
Seven Native Nations hosted the totem pole and our team along the Red Road. Each stop highlighted one ongoing struggle to protect a sacred place under threat from climate change, dams, mining, and oil and gas projects. Thousands of people greeted the totem pole along its route. They touched the carving, sharing their prayers and hope to heal Mother Earth and uphold Indigenous sovereignty. It is time to transform the relationship between the U.S. government and Native Nations.

Over a dozen tribal leaders joined us at the final blessing in front of the National Museum of the American Indian. Secretary Haaland summed up the importance of the totem journey, saying, "Your journey, like the wind, the birds, the water, carried the prayers of everyone who laid hands on this totem pole. It is a heavy load to carry because we know that all of our actions inform our future."

We couldn't have done this alone. We thank all our partners on this journey — House of Tears Carvers, Native Organizers Alliance, The Natural History Museum, Se'Si'Le, and IllumiNative, and all of the Tribal Nations and Indigenous communities, groups, youth, and organizers along the way.

We also thank you and all of our supporters. You were with us on this journey, every step.

« Prev
Next »