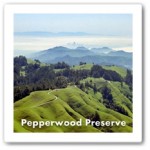 "Pepperwood Preserve is an ecological institute that is dedicated to educating, engaging and inspiring our community through science. We are a 3,200 acre reserve, home to over 900 species that are native to our region. " –Lisa Micheli, Executive Director
Lisa Micheli, Ph.D., came to Invoking the Pause as part of our 2007 Pilot Program for our inaugural grant, "At The Water's Edge." She is a Switzer Foundation Fellow and Pepperwood Preserve is a Research Affiliate of the California Academy of Sciences.
Pepperwood Preserve (est. 1979) is a nature preserve located at the southern end of California's North Coast Ranges. The preserve rests between the world-renowned Sonoma and Napa Valleys, the majestic Mayacamas Mountains rise above San Francisco Bay and stretch northward past Calistoga to the east and Santa Rosa to the west.
Here, across from Mt. St. Helena, near the divide of the watersheds of the Napa and Russian rivers, Pepperwood Preserve protects a 3117-acre zone of stunning landscape and rich biodiversity.
The YouTube Video below takes you on a journey of the purpose and principles of Pepperwood Preserve. Click on the image below to go directly to the video.