Posted -
09/27/2017
Comfort With Discomfort
Building the capacity for relational engagement on climate change between scientists and communities
by Faith Kearns and Clare Gupta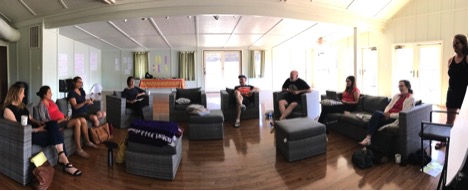 Participants gathered at Mayacamas Ranch in northern California for an interdisciplinary pause. Photo by Faith Kearns
Climate change is an emotional issue. It can be scary as a scientist to come up against that kind of emotion – whether your own or other people's – when you've spent your career trying to remove feelings from your work, as most scientists are trained to do. At the same time, being uncomfortable with emotions can be a serious limitation when trying to engage effectively with others on contentious issues like climate change.
Now, more than ever, the science community is invited to develop new ways of engaging with individuals and communities on contentious issues like climate change. Over the past several decades, it has become clear that it is not enough to rely on scientific and technical information, expertise, and authority alone to compel social action on climate change. Instead, we are seeing transformation occur as diverse groups of people work together to affect change, often in seemingly messy and chaotic ways that include contributions from the climate justice,
artistic
, and activist communities and at every level from local to international.
Shifting climate work into this kind of
relational mode
—one centered on people and how we relate with each other and our environment—is in many ways a sea change in how the scientific community has dealt with an issue traditionally steeped in technical intricacy and governmental hierarchy. Learning to effectively engage in this environment calls for significant interpersonal and emotional skills. Yet, scientists are primarily trained to deal in objectivity and facts, and to push away subjective views, conflict, and feelings.
How do we support scientists in learning to feel more comfortable with discomfort? In other fields, including law, medicine, and psychology, a shift into relationship-centered work has been one answer to similar challenges, and has been ongoing for at least the past two decades.
A common thread among these fields is a shift from expert-driven to more collaborative modes of working together. Navigating the personal and emotional elements of relational work asks quite a bit more of practitioners than subject-matter expertise. In medicine, for example,
relationship-centered care
is a framework examining how relationships—between patients and clinicians, among clinicians, and with broader communities—impact health care. It recognizes that care may go well beyond technical competency, and that capacities including empathy, compassion, and ability to be with difficult emotions are valuable.
For our pause, we gathered a group of scientists together with experts in relational work in law, medicine, and psychology for a unique, co-learning experience. This is a group of people that would likely not interact under other circumstances. The pause gave us time to explore new, innovative ideas in a way that we are rarely able to get the time or support for. The gathering built on a related 2016 workshop supported by
The Whitman Institute
.
Our first goal for our pause was simply to model the change that we'd like to see. The gathering gave everyone a chance to focus on developing relationships within the group and see what emerged. A combination of formal and informal activities encouraged sharing and reflection. Our second goal was to advance the groundwork for a new plan of action for helping scientists within the University of California's cooperative extension system who do direct work with communities on climate change build the capacity to effectively navigate contentious, emotional situations and relationships.
In our next post, we will discuss a bit more about what we learned from each other and our plans for taking our "aha" moments out into the world.
Participants:
Allison, Elizabeth
Associate Professor, California Institute for Integral Studies
Davenport, Leslie
Author, Emotional Resiliency in the Era of Climate Change
Gupta, Clare
Assistant Specialist, Department of Human Ecology, UC Davis
Kearns, Faith
Academic Coordinator, UC Division of Ag and Natural Resources
Kocher, Susie
Forestry and Natural Resource Advisor, UC Division of Ag and Natural Resources
McMullin, Juliet
Professor, School of Medicine, UC Riverside
Silverstein, Gail
Clinical Professor of Law, UC Hastings School of Law
Smith, Martin Cooperative Extension Specialist, UC Davis
Sowerwine, Jennifer Cooperative Extension Specialist, UC Berkeley
Stark, Dan
Staff Research Associate, UC Division of Ag and Natural Resources