Posted -
01/24/2012
ITP Grant Partner CityLab7 Announces Storefront Pop-Up Storefront Mushroom Farm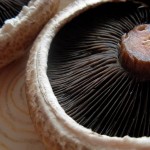 Beginning in January 2012, CityLab7 will design and build their Fertile Grounds pop-up in collaboration with Olson Kundig Architects and Schuchart/Dow in an installation called [storefront] Mushroom Farm.
The monthlong pop-up, which opens in mid-February 2012, will include a functioning urban mushroom farm with grounds gathered from three nearby cafes — Zeitgeist, Caffe Umbria, and Starbucks. The [storefront] Mushroom Farm will also showcase an informative exhibit, dynamic storefront window display and a series of public events including conversations with local food experts and a harvest dinner and salon discussion with MacArthur Genius Gary Nabhan.
This partnership heralds a significant moment in their three-year collaboration — and a twist on a longstanding joke. "In our initial proposal to Invoking the Pause in 2009, we built upon Maggie's idea about the need to take time out to think — in essence, "Don't just do something, stand there."'
Now, at the beginning of 2012, after months and years of brainstorming, researching, and gathering for work sessions in cafes, living rooms,and co-working hubs across Seattle, they are stepping forward to put their plans into action."Standing has been great –and necessary– but we're ready to take this idea and run with it."
Stay tuned for news of openings and events beginning in February, and thanks to all who have supported CityLab7 over the years.
To learn more about CityLab7 click here.