Posted -
12/19/2017
ON ROLLING WITH THE PUNCHES
By Sarah Cameron Sunde of 36.5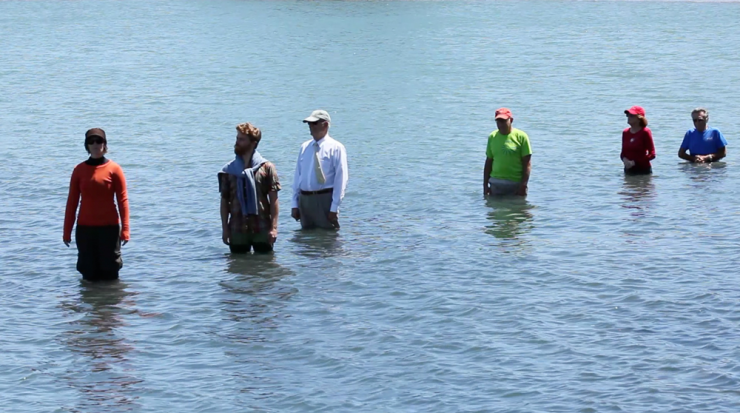 36.5 is a durational time-based art project, spanning seven years and six continents, that engages people directly on personal, local, and global scales about the crisis of sea-level rise. 36.5 founder, Sarah Sunde writes about her 'pause' experience.
Flexibility is a necessity when working with water. Therefore it is necessary in all parts of my process as well. Question: What can you do when it seems impossible to get together a big group at the same time? Answer: Take stock of where you are in the process and keep moving forward in whatever way makes sense, and something better than what you initially imagined is likely to occur.
36.5 / A Durational Performance with the Sea
is my time-based art project, spanning seven years and six continents, that engages people on personal, local, and global scales about the crisis of sea-level rise. What began in 2013 with a simple action -- standing in water for 12 hours and 48 minutes while the tide rose and fell on my body -- has grown into a complex artwork, involving hundreds of people, and resonating deeply with both the artistic community and stakeholders in the climate adaptation community. This project is a poetic act designed to open new forms of public consciousness, and has potential for impact now more than ever, when the veracity of climate change is being called into question.
Since many of my 36.5 collaborators from the first five iterations (in Maine, Mexico, San Francisco, the Netherlands, and Bangladesh) have never met each other in person, I had a dream of bringing everyone together in the same room (the same ocean) at the same time. Despite everyone's busy schedules it seemed like it might be possible. My original intention was to structure my 'pause' around WORKS ON WATER, an inaugural triennial of art works that happen on, in, and with the water.
ITP
grant partner Eve Mosher and I were two of the six co-curators of this event, that took place in New York City in 2017.
36.5 was an anchor artwork of the triennial, and I created a large-scale four-channel video installation. While many people from my collaborative team were able to come together to see this work, some people simply couldn't attend. I realized that I was overwhelmed with work and that it made the most sense to hold on taking the real 'pause' until after the event was over. I was meeting so many new 36.5 enthusiasts during WORKS ON WATER, and a delicate opportunity presented itself - to bring them in future stakeholders and partners, to build alliances for the future, especially the 2020 iteration in New York City.
So now, I am splitting the pause into two sections:
PHASE 1:
strategic thinking with some core collaborators and newer stakeholders - this will happen in New York City on September 12-14, 2017.
PHASE 2
:in-depth planning with my core collaborators structured as punctuated development and scheduled in December 2017.
The 15 new stakeholders who have signed up to participate include key staff from New York City's Departments of Planning, Waterfront, and Sustainability, Freshkills Park, and The Trust for Public Land.
I am designing my rei-magined 'pause' to be fun and interactive, with good food and great conversation. In my experience food and laughter lead to innovation. I will ask everyone to sit with people they don't know, and to do rapid-fire brainstorms, which will lead to more in-depth questioning and planning.
I am so grateful to
Invoking The Pause
for keeping me going in a moment that could otherwise have been less productive. Because of this grant, I have been able to really take stock creatively and consider deeply how to best move the project towards greater impact on a larger audience. I have no doubt that I will finish with a plethora of new ideas and new partners who will be critical for the days ahead.