Posted -
10/01/2019
Sonoma Impact Experience - 10,000 Degrees
We are incredibly grateful for the support of
Invoking the Pause
for providing this unique and important opportunity to bring together dedicated leaders in Sonoma County and the broader Bay Area to collectively ideate solutions to support the artist-entrepreneur communities that have paved the way for more inclusive and equitable growth and rebuild of communities that have been devastated from the wildfires in Sonoma County.
"As we begin to rebuild the homes, the businesses, and the new landmarks of Sonoma County, our artistic Second Responders will be at work cobbling back together the pieces of our souls, helping us pave the pathway to hope." - Kristen Madsen
Devastation and Loss
In October 2017, destructive fires swept across Sonoma County in what is now referred to as the Northern California Firestorm. The fire has destroyed over 36,000 acres of land with an economic loss of $1.2 billion. What these numbers don't tell us is the long-term devastation that the fires have had on the residents of Sonoma County. For families across the county, the process of rebuilding homes and lives has been a long and tenuous journey.
Impact Experience
is a social impact organization dedicated to building bridges and deepening relationships between investors, foundations, entrepreneurs, and community leaders to co-develop solutions with marginalized communities. We have worked with communities across the country around issues including how to rebuild through equitable and inclusive strategies in New Orleans, Puerto Rico, and Houston in response to hurricane disasters, diversifying a former coal economy in rural West Virginia, to Opportunity Zone investment strategies that are inclusive of community ownership. In each of the communities that we work in, we focus first and foremost on establishing trust. Given the deep history of extraction, colonialism, and intergenerational trauma in many of these communities, we have found that building a foundation of trust is critical to the relationships that we foster within the community and the solution-building process that ensues. We also focus on enhancing strategy, with the belief that it is important to build upon already existing assets within the community, rather than stripping these assets away. Knowledge and wisdom exist within the community, and our goal is to be able to provide a platform for transparent and meaningful discussion that allows for generative brainstorming. Lastly, our work aims to bring sustainable change into the community by connecting those from outside to the community with leaders within the community in order to create a robust ecosystem of support that is inclusive of capital, resources, networks, and tools that will support the growth of communities in the long-term.
Rebuilding Hope
During times of devastation and loss, artist and creative communities play an integral role in instilling a sense of solidarity and hope. Using art as a tool to gather community, we have found that across communities in the U.S. from New Orleans, Houston, Puerto Rico, to Sonoma County, artist-entrepreneurs are at the heart of rebuilding the hearts and minds of families. Artist-entrepreneurs have the unique ability to address intergenerational trauma that cannot be rebuilt through building material infrastructure. The trauma is deeply embedded in the history, culture, and souls of individuals who have sacrificed and continue to sacrifice in the wake of a disaster. In order to address these challenges, it is important to gain a deeper look into ourselves as individuals and how we can harness the power of community.
On July 12, 2019, Impact Experience brought together artists, foundations, and entrepreneurs for "A Pause" to carve out intentional time and space to share lessons learned from across communities, explore areas of intersection, and co-develop opportunities to strengthen local creative communities. The inspiration behind this Impact Experience comes from our previous engagement in New Orleans where we brought a Sonoma County delegation together with Houston, South Carolina, and New Orleans communities to share lessons learned and best practices in the rebuild process in response to climate disasters. As part of our brainstorming strategy session, the Sonoma delegation expressed interest in supporting a more inclusive and equitable artist-entrepreneur ecosystem in their community. Our Sonoma Impact Experience also draws from a collective vision from the Map One Sonoma Strategy Summit with the aim to "launch a new story where all Sonomans see themselves as investors in an equitable and regenerative future through an appreciation for our cultural wealth by the end of 2020."
"The Pause" focused on the powerful intersection of art, culture, and equitable rebuild processes in Sonoma County. In response to the wildfires and flooding disasters, artist communities helped catalyze collective healing, new programs to leverage community voices, and instilled hope during a period of devastation and loss.
The convening took place at 10,000 Degrees in Santa Rosa, CA. This convening aimed to accomplish the following objectives:
● Develop deep and meaningful relationships across a diverse group of leaders and artists dedicated to the rebuilding and healing processes
● Co-create tools and resources to help inspire both an inclusive and equitable rebuilding process
● Explore the artist communities in Sonoma and how they collectively created programs of healing, engaged community voices, and instilled hope during a period of devastation
● Gain a deeper understanding of the challenges and opportunities within the recovery and rebuilding process through the artist community
Our Impact Experience began with a trust-building activity -- through sharing stories and the lens through which we see the world, we were reminded of our common humanity, particularly connected to our dedication to driving community-engaged, hope-instilling, equitable and inclusive processes for rebuilding Sonoma County. It was awe-inspiring to hear everyone's sharings and to witness the vulnerability and transparency in the room. We all felt deeply connected to one another as a result of this exercise.
During the context-setting session, community leaders shared their experiences confronting disaster and rebuilding in the aftermath of the fires and flooding disasters. Javier Rivera, Program Director of La Plaza: Nuestra Cultura Cura, shared how his organization offers a space for individuals from the Latinx community dealing with injustices to formulate solutions. He also expressed that many people from migrant communities live in fear, without access to impactful methods for healing. La Plaza provides an intentional space for the Latinx community to heal through art, food, storytelling, poetry, and dance. Claudia Meglin, an artist and Integral Systems Designer at Creative Sonoma shared a powerful story of how the fires shaped her life. She explained that she brings dancers into areas covered with the ashes from the fires to experience their transformative energy. Samantha Kimpel, the Creative Coordinator of Creative Sonoma, shared how the organization is moving out of the start-up phase and expanding their reach by providing more funding to artists, providing necessary information to artists, and acting as an advocate to support the creative community.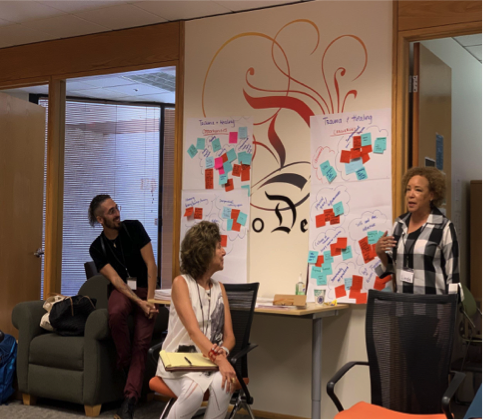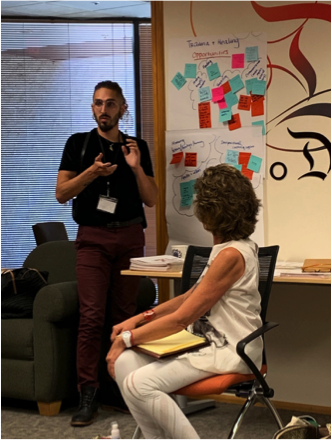 The breakout sessions to co-identify challenges and co-develop opportunities provided an opportunity for our group to "take a pause" and reflect on the bigger picture of the interrelated barriers that may be shaping the current ecosystem and landscape for artist-entrepreneurs. For example, the trauma and healing group articulated the importance of understanding structural racism, institutional bias, and exclusion of the indigenous and Latino communities as barriers for artist-entrepreneurs and the health of the broader ecosystem in Sonoma County. Collectively, we developed opportunities that would allow diverse stakeholders to support the artist-entrepreneur communities in Sonoma County. Many of the participants echoed appreciation for this particular exercise, as it allowed them to take a step back and assess what the current needs are, and how to address and confront them directly with the wealth of resources, knowledge, and networks in the room.
We also had the privilege of working with CultureBank to document the stories of key artist-entrepreneurs in Sonoma County. These stories provided a window through which to understand the purpose and meaning of their artistic practice, and how they aim to impact their local communities.
Moving Forward
We are excited to share that since the Sonoma Impact Experience, there have been 12 commitments of the total 48 commitments made to carve a way forward for the Sonoma community. First, there is a working group that has formed as a result of this "Pause" that focuses on discussing potential projects at the intersection of Opportunity Zone investment, real estate, and artist communities. The goal of this working group is to collectively identify unique opportunities to help support underserved areas of the County. Secondly, the StoryBank initiative is well underway, and the artist-entrepreneurs who were engaged in the Sonoma Impact Experience continue to build out their stories and documentation process with the StoryBank team. This will serve as an important outlet and outreach tool for artist-entrepreneurs who are aiming to expand their reach and scale their impact.
We are eternally grateful for Invoking the Pause for their generosity and spirit for providing us with the funding and support to carry out this important work. Thank you for understanding our vision and connecting us with incredible networks and resources that helped bring the Sonoma Impact Experience to life. We look forward to continuing our engagement with the Sonoma Impact Experience community as we help build a more equitable and inclusive world.
Reflections from Participants
"Impact Experience fosters a dynamic conversation amongst core community and industry voices, resulting in an actionable, results-based agenda to achieve what goals are agreed upon."
- Christian Schneider


"... The lovely ritual of introducing ourselves through a symbol. It produced a very deep understanding of each other's lens. So it was a pleasant surprise."
- Linda Parker

"Impact Experience provides an authentic process [to] create a connection to build trust while giving each participant [the chance] to leverage their unique experience to contribute to impactful projects making a real difference in the communities they are engaged with."
- Denny Pallenberg