Posted -
04/28/2011
Taco Diplomacy Food Wagon For Sabores Sin Fronteras Foodways Alliance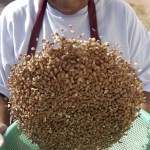 Tucson Meet Yourself's Sabores Sin Fronteras Farming and Foodways Alliance is a novel mobile exhibit in the form of a "heritage food wagon" or "taco diplomacy truck" to stimulate public discourse and community discussion at Arizona festivals and other events with regard to the sustainability and "foodprint" of traditional foods historically and currently eaten and produced in Arizona.
As part of these public events, the Taco Diplomacy Food Wagon will provide a forum in which dynamic content related to food value chains and carbon footprints, environmental and culinary history, food justice and multi-cultral heritage foods will be presented as more than just calories, but also elements of cultural identity and management of agrarian environments.
Our goal is to provide a novel mobile exhibit in the form of a "heritage food wagon" or "taco diplomacy truck" that serves to stimulate public discourse and community discussion at Arizona festivals and other events with regard to foods eaten and produced in Arizona.
This project will design, build and stage at various festivals and humanities symposia a mobile "Taco Diplomacy Food Wagon" that will simultaneously serve as
1) a piece of art with images of iconic Arizona heritage foods;
2) an information kiosk, and education display about the history of those foods and which Arizona based producers and restaurants currently offer them;
3) a farmers' market "booth" featuring the actual foods for viewing, sample tasting or sales; and
4) a speakers' platform and video/podcast viewing station where humanities content (historic, social and geographic) regarding Arizona's unique food, farming and ranching legacies can be presented at public events.
Urban as well as rural residents agree that more Arizona residents need means of being reconnected to where their food comes from, to its history, environmental and social costs, as well as its benefits to our food security.
By taking this mobile exhibit to a variety of festivals and public events where foodprint sustainability content regarding food and power can be offered, we will serve a civic function in re-engaging Arizona residents of all backgrounds and education levels in discussion of our food future as well as food history.
Specifically, the public will benefit because they will see (in videos) and meet (in person) food producers, distributors and food history scholars who will remind them of the social (not just nutritional) importance of food production in the state, using issues relating to iconic foods (beef, wheat, corn, chiles, mesquite) to do so.
Food does not instantly appear on our plate, but arrives through social, ecological and economic precesses which most eaters barely understand. We wish to "daylight" the power (include energy) relationships involved in the supple chain rancher, wild forager or farmer through harvester, processor, distributor and home cook or chef.
By involving Dr. Maribel Alvarez, with training in public folklore, political science and social anthropology, we will facilitate public discussion of the power dynamics among all those involved in the supple chain from farm to table.
By engaging Dr. Gary Paul Nabhan, with training in ethnobiology, agricultural history and food systems analysis, will engage the public in discussion of how these "supply chains" or "value chains" have changed through time.
By engaging CityLab7 as partners in design and media delivery of key messages, we hope to enliven our communications across the cultural and age range we will encounter.
We have recently received funds from the Arizona Humanities Council to build the wagon based on designs by local artist and artisan teams. We will focus on contrasts between historic images of Arizona food producers (ranchers, wild chile foragers and dry-farmed wheat growers) and their contemporary counterparts who fit few stereotypes or romanticized cliches.
This content will be expressed through imagery painted on or sculpted into the food wagon, juxtaposed with video clips, audio clips and real-life presentations by ranchers, farmers, gardeners, foragers and chefs from Arizona's many resident cultures.
Our target audiences are the multi-cultural residents of Southern Arizona – rural and urban – who are attracted to food and arts festivals, farmers markets and food events.
Once built the wagon will be integrated into future Tucson Meet Yourself events, then marketed to other selected festivals and events through personal contacts and our active website.
Primary launch and "field testing" will be done at the October 2011 Tucson Meet Yourself, where humanities scholars will launch its public programming at the three day festival that attracts 80,000 people.
–Gary Nabhan and Taco Diplomacy are 2011 ITP Grant Partners.