Posted -
03/01/2011
Terry Tempest Williams of Council of Pronghorn — 2010 Convening Interview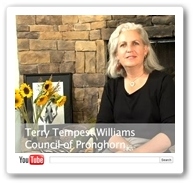 Terry Tempest Williams of the activist art installation, Council of Pronghorn, gracefully articulates what changed for her at the 2010 Invoking the Pause Convening.

"What has surprised me is the infusion of hope. I did not realize what a deficit I was holding.

httpv://www.youtube.com/watch?v=wrTnH6vfgSo

"I think it's the marriage of pain and hope that infuses me with joy, spirit, community. That's what I've felt in the pause that we're all celebrating.
"No one has to carry the burden on their own shoulders. The power of story is to connect us to this larger inevitability of how we redefine how it means to be human. In that struggle is the dance.
"I don't know when I've been in the midst of such joyous people. What sparks me is the importances of being in the inter-generational setting. What inspires me is being with young people. And what moves me is when people speak from their most authentic selves, inspired by deep reflection.
"I think whenever someone speaks from that authentic place it is deeply threatening, deeply inspiring, deeply moving.
"The great gift has been being inspired."
–Terry Tempest Williams has been called "a citizen writer," a writer who speaks and speaks out eloquently on behalf of an ethical stance toward life. A naturalist and fierce advocate for freedom of speech, she has consistently shown us how environmental issues are social issues that ultimately become matters of justice. The Council of Pronghorn was a Pilot Program of Invoking the Pause.