Posted -
07/31/2018
The Artists & Climate Change Blog Gets a Pause
By Julia Levine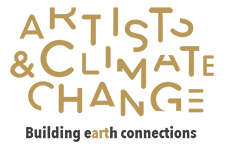 For five years, the
Artists & Climate Change blog (A&CC),
an initiative of
The Arctic Cycle
, has been publishing essays, interviews, and editorials, contributing to an international artist network and promoting the inclusion of the arts in the global climate change conversation. We feature visual and performing artists, including painters, musicians, theatremakers and dancers, and artists from other disciplines who are committed to engaging with climate change in their work. We deeply believe that what artists have to say about climate change will shape our values and behaviors for years to come. For that reason, we are committed to supporting them and giving them the visibility they need to create significant impact.
Since 2013, our blog has garnered 87,000 visitors and over 200,000 views. We have viewership in six continents (North America, Europe, Australia, Asia, South America, and Africa), with top countries being US, UK, Canada, and Australia. Our followers have grown to over 10,000 on the blog and on social media. Our A&CC Facebook Group, where artists can publicize their projects and interact with each other, now counts close to 1,700 members. We are reposted regularly by partner websites, and continue to be an educational resource for art, environment, and social change classes.
So, what's next? For the first time ever, our editor, Chantal Bilodeau (US) and us four regular contributors – Susan Hoffman Fishman (US), Yasmine Ostendorf (The Netherlands), Joan Sullivan (Canada), and myself – are able to gather in person at the Omega Institute, a retreat center located in Rhinebeck, NY, in early August. Our Pause will provide some breathing room to evaluate our practices, brainstorm ideas for new content and functionalities, and strategize how A&CC may increase its impact. This may sound "heady" but we are all artists, and look to this retreat as a time to build synergy in a way that can only happen when we are physically together.
Preliminary ideas for our Pause fall into categories of A&CC administration, content, outreach, and programming beyond the blog itself. We want to develop more diverse content and strategies to reach new audiences; make the platform more interactive to retain visitors longer; publish curricula developed by teachers and professors to encourage the use of our resources in the classroom; engage non-arts partners – for example, scholars and activists – to provide additional perspectives on the role of the arts in shifting our culture towards sustainable living, and; facilitate the integration of artists in non-arts projects. More ideas will likely surface as we work together.
In addition, the Omega Institute, where we are meeting, is home to the Omega Center for Sustainable Living, one of the greenest buildings in America – the perfect place for us! As artists focused on helping societies transition to a more just and sustainable future, we plan on visiting the Center and learning about its programming, to see what additional ideas spark for our platform.
Our forthcoming Pause opens a new chapter for A&CC. As we prepare to deepen our existing relationship as a blog team, there is some ambiguity about where this phase will lead, but we are propelled by our shared passion to hold space for and amplify art at the intersection of climate change.