Posted -
03/29/2012
Windowfarms Delivery Dates Kickstarter Orders Update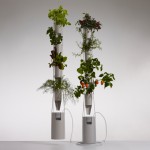 Dear Backers,
It's mid-March, spring is officially in the air, and we know that you're eagerly awaiting the delivery of your Windowfarm!
We are sad to tell you though, that we've experienced a hitch in our plans: a manufacturing delay with one of the key components of your Windowfarm.
We are working with the factories on a new delivery date, but we won't have a firm new estimate for a few more weeks. We've needed to make a design change to one of the giant, precision-cut metal molds that produces the part with the longest lead time.
We committed to having the parts made in the United States and to collaborating with folks who, like us, are uncompromising in their quality, environmental, and community impact standards. This means that sometimes we end up spending more time than we planned to get everything just right.
Please know that we are all working as fast as we can to get your Windowfarm assembled and ready to ship to you later this spring. We promise to deliver your Windowfarm as soon as we can, even if that includes renting trucks and driving the parts between the factories ourselves!
As with any new product being manufactured, there are inevitable bumps along the road and we ask for your patience and continued support as you join us on this journey.
Thank you,
Windowfarms
Britta, Destiny, Pirapha, and Shivani